TackingMaster
A tactical navigation device that works together with any compass. It aims to make it easier to understand and visualize changes and trends of the wind during regatta sailing.
The visual overview on TackingMaster helps the tactical sailor to visualize all the most important main bearings in order to be better prepared for the next wind change.
Basically, TackingMaster aims to add overview and visual and cognitive memory support to the modern complex world of performance sailing.
Latest News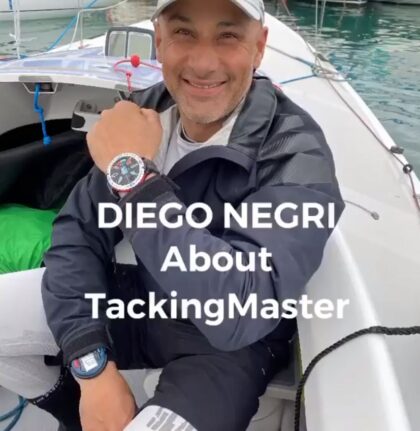 April 7, 2021 - 0 Comments

Diego Negri, World Champ and pro sailor with a short explanation about how he uses the @tackingmaster #regatta #sailing #dragonsailing #starsailing #starsailorsleague #j70 #j70class Click...
Testimonials
"I always use a pencil to write all the numbers on deck! To me this is absolutely essential in a long racing day. Now this tool is making it easier in a simple way. It helps you with the calculations in the geometry of the course. It allows to quickly control a layline, a shift, the wind trend, bearings to other boats... It is definitely a good alternative".

Robert StanjekGerman Pro Sailor – STAR, Dragon, BigBoatRacing and coach:

"I have been using the TackingMaster now for about 6 weeks in the Etchells and have found it a very useful tool - especially handy having it strapped to the wrist! The TackingMaster is easy and simple to use making those important decisions so much easier to make by having a quick glance at the wrist to check the base data against the compass. I highly recommend this to every keel boat crew".

Cole "Skip" LissimanAustralian sailor - including in the America's Cup, sailing instructor.

"TakingMaster can help you to get a clear picture on the race course. A good tool for making the right decisions - together with hours on the water, is what I think is important to win." (Testet TackingMaster spring 2015)

Lars HendriksenDanish Pro Sailor – Dragon

"Straightforward and easy device that you always should take the time to update when racing. Makes it easier to understand the wind trends. And designed so that it is easily readable". (Has been tested TackingMaster during the last year).

Søren KæstelMany times National champion in Dragon, Folkboat and Knarr

"I have tested the TackingMaster on our Dragon. It gives me a good overview - although we are sailing very intuitively on the compass courses and our other tactical overview, TackingMaster helps us visualize what happens with the wind. This both upwind and calculating courses downwind. At the same time it is a good tool for debriefing after a race, to discuss what happened in order to think about tendences in next race. Good as an alternative to the old "Elvstrøm tool" that I have always used"

Theis PalmDanish Pro-sailor, multiple World, European and National champion in Dragon, H-Boat and Folkboat, and Olympic coach – Working at North Sails:

"A lot of great tools have been developed to help us around the track when we are racing – but when sailing in "smaller boats" the most important is the overview of the changes on the course. TackingMater is a simple helping hand….".

Mikkel RøsbergDanish Pro Sailor - TP52, MatchRace, Farr40 and Melges 20…

"Simple tool that gives you the necessary overview of the wind and the tactics - easy to use in a good combination with the compass....."

Andy BeadsworthBritish Pro Sailor – Dragon, Star, Etchells, Olympics and Offshore

"The TackingMaster is a great tool which we use when racing Dragon. Especially to keep the overview when going downwind - to choose the right direction or mark in tensed situation. Also giving us a good summery after a race and to prepare for the next"…

Jørgen Schönherr Dragon sailor, many times champ in different classes

"Great tool that makes it easier to keep an eye on the race course – and to give a good understanding of the tactical part of sailing. A tool that helps you getting a quick overview of wind angles and race course is always welcome. - It keeps my eyes pointed where they are supposed to be... outside of the boat"

Phillip GuhleDanish pro sailor – Long Beach CA, Farr40, Match Race and Melges

"Good tool to lean on! Should we go in or out – helps you to confirm if you are in doubt and makes tough decisions easier. Faster to think further ahead with a tactical overview ... As in chess, the best is the one who thinks furthest forward ... TackingMaster has in a short time become my best tactics partner". (Tested TackingMaster durring 2014)

Mads ChristensenSeveral time World Cup and National champion in Yngling, X99, J70 and Swan 60, and professional coach

"My initial thought was: wait a second – why would I need a piece of plastics on my wrist with no electronics?  What could it possibly tell that I do not know already?.  But to be honest, it is a great "notetaker" for the wrist. If you as tactician combines this device with an electronic compass – you suddenly have a very useful tool at hand so to say. This device keeps track of your compass courses  – at close haul upwind, as well as downwind, including startline bias calculations. The coolest part above all, is when the race has started and the wind starts shifting – then just follow along by turning the Wind Dial – and you will immediately get all the new courses including help for estimating laylines towards your competitors."

Michael HestbækDanish Pro-sailor, multiple World, European and National championships, mutiple olympic events, SAP Sailing Coach

"I do sail a lot on my "feeling". TackingMaster giving us a good overview and progress when racing and makes it easier to prepare for the next race. TackingMaster gives us a particularly good overview when we choose the way "down the hill"":

Frank BergFrank Berg, "long keel specialist" – Many times champion in Dragon and Knarr

"Sailing with the TackingMaster is giving a great overview of the wind and the tactics. Helping me to memorise if the wind is oscillating or if it is turning - and is at the same time giving me a good overview of the angles going downwind…".

Stefan MyralfDanish sailor and champion in many different classes...

- "Looking forward to race with my TackingMaster - so I do not need to make small tacky notes on my wet-paper with my Ikea pencil to keep control over the tactics….".

Jesper BankThree times Olympic medalist and several times world champion